If you're following along with the news today, you've heard about rising inflation. Today, inflation is at a 40-year high. According to the National Association of Home Builders (NAHB):
"Consumer prices accelerated again in May as shelter, energy and food prices continued to surge at the fastest pace in decades. This marked the third straight month for inflation above an 8% rate and was the largest year-over-year gain since December 1981."
With inflation rising, you're likely feeling it impact your day-to-day life as prices go up for gas, groceries, and more. These climbing consumer costs can put a pinch on your wallet and make you re-evaluate any big purchases you have planned to ensure they're still worthwhile.
If you've been thinking about purchasing a home this year, you're probably wondering if you should continue down that path or if it makes more sense to wait. While the answer depends on your situation, here's how homeownership can help you combat the rising costs that come with inflation.
Homeownership Helps You Stabilize One of Your Biggest Monthly Expenses
Investopedia explains that during a period of high inflation, prices rise across the board. That's true for things like food, entertainment, and other goods and services, even housing. Both rental prices and home prices are on the rise. So, as a buyer, how can you protect yourself from increasing costs? The answer lies in homeownership.
Buying a home allows you to stabilize what's typically your biggest monthly expense: your housing cost. When you have a fixed-rate mortgage on your home, you lock in your monthly payment for the duration of your loan, often 15 to 30 years. James Royal, Senior Wealth Management Reporter at Bankrate, says:
"A fixed-rate mortgage allows you to maintain the biggest portion of housing expenses at the same payment. Sure, property taxes will rise and other expenses may creep up, but your monthly housing payment remains the same. That's certainly not the case if you're renting."
So even if other prices increase, your housing payment will be a reliable amount that can help keep your budget in check. If you rent, you don't have that same benefit, and you won't be protected from rising housing costs.
Investing in an Asset That Historically Outperforms Inflation
While it's true rising home prices and higher mortgage rates mean that buying a house today costs more than it did even a few months ago, you still have an opportunity to set yourself up for a long-term win. That's because, in inflationary times, you want to be invested in an asset that outperforms inflation and typically holds or grows in value.
The graph below shows how the average home price appreciation outperformed the average inflation rate in most decades going all the way back to the seventies – making homeownership a historically strong hedge against inflation (see graph below):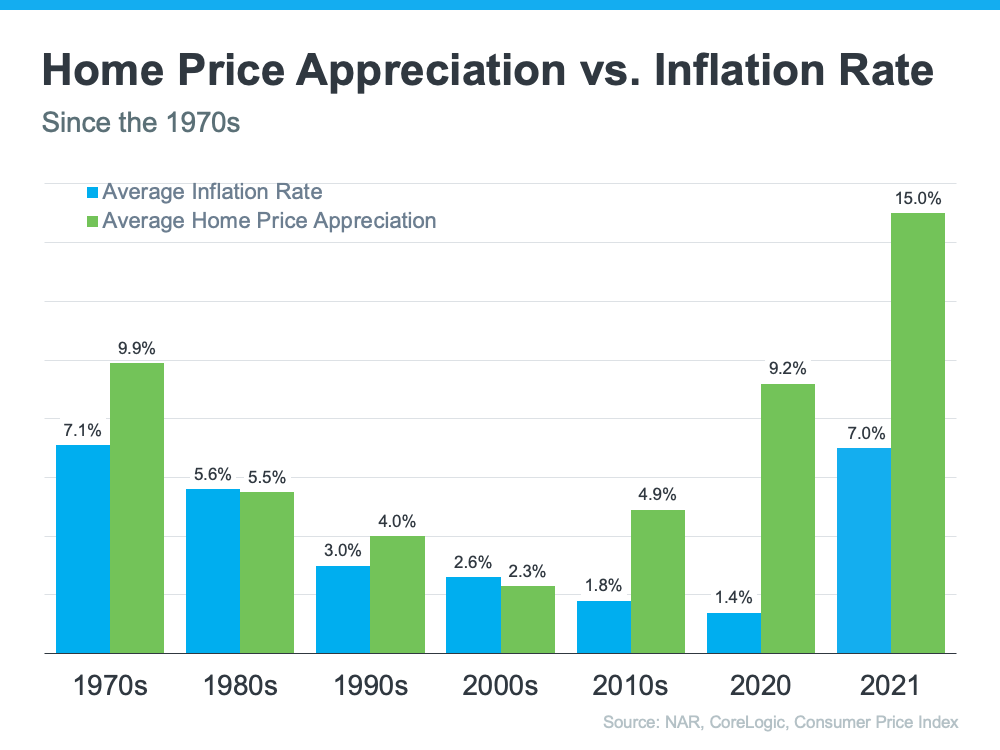 So, what does that mean for you? Today, experts forecast home prices will only go up from here thanks to the ongoing imbalance of supply and demand. Once you buy a house, any home price appreciation that does occur will grow your equity and your net worth. And since homes are typically assets that grow in value, you have peace of mind that history shows your investment is a strong one.
That means, if you're ready and able, it makes sense to buy today before prices rise further.
Bottom Line
If you've been thinking about buying a home this year, it makes sense to act soon, even with inflation rising. That way you can stabilize your monthly housing cost and invest in an asset that historically outperforms inflation. If you're ready to get started, let's connect so you have expert advice on your specific situation when you're ready to buy a home.
Check out some tips from the experts below!
Once you've applied for a mortgage to buy a home, there are some key things to keep in mind. While it's exciting to start thinking about moving in and decorating, be careful when it comes to making any big purchases. Here are a few things you may not realize you need to avoid after applying for your home loan.
Don't Deposit Large Sums of Cash
Lenders need to source your money, and cash isn't easily traceable. Before you deposit any amount of cash into your accounts, discuss the proper way to document your transactions with your loan officer.
Don't Make Any Large Purchases
It's not just home-related purchases that could disqualify you from your loan. Any large purchases can be red flags for lenders. People with new debt have higher debt-to-income ratios (how much debt you have compared to your monthly income). Since higher ratios make for riskier loans, borrowers may no longer qualify for their mortgage. Resist the temptation to make any large purchases, even for furniture or appliances.
Don't Co-Sign Loans for Anyone
When you co-sign for a loan, you're making yourself accountable for that loan's success and repayment. With that obligation comes higher debt-to-income ratios as well. Even if you promise you won't be the one making the payments, your lender will have to count the payments against you.
Don't Switch Bank Accounts
Lenders need to source and track your assets. That task is much easier when there's consistency among your accounts. Before you transfer any money, speak with your loan officer.
Don't Apply for New Credit
It doesn't matter whether it's a new credit card or a new car. When you have your credit report run by organizations in multiple financial channels (mortgage, credit card, auto, etc.), it will have an impact on your FICO® score. Lower credit scores can determine your mortgage interest rate and possibly even your eligibility for approval.
Don't Close Any Accounts
Many buyers believe having less available credit makes them less risky and more likely to be approved. This isn't true. A major component of your score is your length and depth of credit history (as opposed to just your payment history) and your total usage of credit as a percentage of available credit. Closing accounts has a negative impact on both of those aspects of your score.
In Short, Consult an Expert
To sum it up, be upfront about any changes when talking with your lender. Blips in income, assets, or credit should be reviewed and executed in a way that ensures your home loan can still be approved. If your job or employment status has changed recently, share that with your lender as well. Ultimately, it's best to fully disclose and discuss your intentions with your loan officer before you do anything financial in nature.
Bottom Line
You want your home purchase to go as smoothly as possible. Remember, before you make any large purchases, move your money around, or make any major life changes, be sure to consult your lender – someone who's qualified to explain how your financial decisions may impact your home loan.
As the real estate market changes, it's important to have a running start on your home buying journey.
Here are three things to keep in mind — from mortgage rates to buying power — as you navigate the housing market.
What's going on with mortgage rates?
As consumers, we have been spoiled with historically low interest rates that held out for an uncommonly long time. As interest rates begin to fluctuate, it is common to feel concern, especially for first-time home buyers.
Understanding the cause and effect behind rate increases can help reduce worry over market changes. Interest rates directly influence a buyer's buying power. Real estate agents can help you understand what this means and what steps you can take to better prepare for it.
I often advise clients to check with the financing institution with whom they have a working relationship. This institution will already have your financial history and a personal gain in maintaining your business. They are best equipped to help you understand your buying power.
Know your buying power
Increased interest rates will increase mortgage payments, and this ultimately influences how much buying power you have. Knowing your buying power is an important factor when it comes to entering the housing market.
It is especially important to understand what you can afford monthly (in terms of payments) and how much of a down payment you need to get the monthly payments where you need them. Many people would rather look for lower costs vs. having to produce more of a down payment, but it is always good to have options.
Don't be afraid to shop lenders
I have a working relationship with several lenders, and I encourage my clients to shop around for the best rate when going through the pre-approval process. A home is one of the largest purchases you will ever make, and even though refinancing is an option later down the road, you should feel confident in your purchase and the process of paying it off for the foreseeable future. Plus, it is always in the buyer's favor to come to the market prepared.
When selling your home, there are a number of tasks to take care of in order to ensure that your home is enticing to potential buyers.
If you happen to have a pool in your backyard, it is important to pay special attention to it as well. The pool is a part of your home – it is a selling point. Thus, it is crucial that you take care of it before selling.
Here is a quick and easy Summer pool checklist to look over and make sure that your pool will support your home-selling process!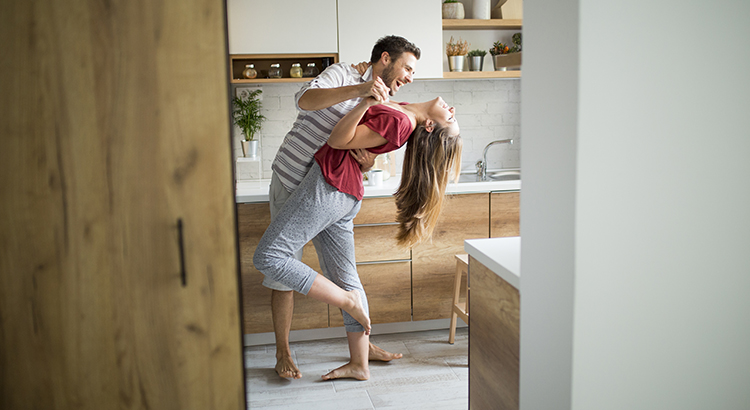 June is National Homeownership Month, and it's the perfect time to reflect on how impactful owning a home can truly be. When you purchase a house, it becomes more than just a space you occupy. It's your stake in the community, an investment, and a place you can put your stamp on.
If you're thinking about buying a home this year, here are some of the benefits you'll experience when you do.
The Emotional Benefits of Homeownership
Because it's a place that's uniquely yours, owning a home can give you a sense of pride and happiness in several ways.
Your Home Can Reflect Your Tastes and Personality
Investopedia puts it like this:
"One often-cited benefit of homeownership is the knowledge that you own your little corner of the world."
That knowledge can lead to a powerful, emotional connection to the place where you live. But so can the realization that your home will grow with you. Because it's yours, you have the freedom to make updates to it as your needs and tastes change. As Logan Mohtashami, Lead Analyst for HousingWire, says:
"The psychology is that this is yours and you're going to make it as good as possible because you're in for a long time, . . . "
And that can create a greater sense of ownership, pride, and connection with your home and your community.
It Can Enhance Your Neighborhood and Civic Engagement
Homeownership can lead you to get even more involved with your local area. After all, you're putting your roots down in a location and will want to do what you can to help improve it, much like your home. In a recent report, the National Association of Realtors (NAR) says:
"Living in one place for a longer amount of time creates and [sic] obvious sense of community pride, which may lead to more investment in said community."
The Financial Benefits of Homeownership
When you choose to become a homeowner, you're making a financial decision as well. That's because your home is also an investment.
It Can Help You Feel Financially Stable
Homeownership is truly one of the best ways to improve your long-term financial position. Not only will you have a predictable monthly housing expense that can benefit your budget in the short term, but you'll also gain equity as your home appreciates in value and you make your monthly mortgage payment. As Freddie Mac says:
"Building equity through your monthly principal payments and appreciation is a critical part of homeownership that can help you create financial stability."
It Can Grow Your Wealth
Because of your growing equity, you can build your net worth as a homeowner. And when you compare the difference in net worth between a renter and a homeowner, it's clear that owning a home truly offers a great way to build your long-term financial position.
According to the latest data from NAR, the median household net worth of a homeowner is roughly $300,000, while the median net worth of renters is only about $8,000. That means a homeowner's net worth is nearly 40 times that of a renter.
Bottom Line
Homeownership is truly a way to find greater satisfaction and happiness and to build financial freedom. If National Homeownership Month has you dreaming about purchasing a home, then let's connect to begin the process today.
Amazing things are happening at Celina ISD – known as the destination district.
Boasting an A rating, this school district holds a promise of growth and excellence in student education. Celina ISD is located 40 miles north of Dallas and it is currently one of the fastest growing public school districts in Texas. And it's easy to see why.
The district has an enrollment of over 2, 500 students and currently has one high school, one junior high school, two elementary schools and one early childhood school.
Here are a few things I want you to know about the district:
Academic Excellence
According to this list of the best school districts in the Dallas area, Celina comes in at the top 20 for its high STARR, AP/IB, SAT and ACT scores.
Academic excellence is certainly a contributing factor in Celina ISD's high rating. In 2020, the high school received the College Success Award; this is coupled with the high percentage (99%) of high school students who graduated early or on time in 2019.
With the pandemic, current numbers are slow coming as many requirements were previously put on hold.
Extracurricular Activities
There's no doubt that academic excellence goes hand in hand with extracurricular activities. According to the Celina ISD website, "Our district has a long-standing reputation of providing quality education that gives our students hope for tomorrow by helping them reach their potential through innovative programs and experiences."
Celina ISD offers a fine arts program and a robust athletic program, attracting students around the area.
Summer athletic camps keep students engaged with baseball, basketball, football, softball and volleyball camps.
Parent Reviews
Greatschools.org is based on parent reviews and a high percentage of Celina ISD schools average a nearly perfect score. The average years of teacher experience is 12.7 years, and this shows in many of the well-rated parent reviews.
Celina ISD does accept transfer applications within the district.
The market is seeing some surprising turns. Days on market went down slightly last month, but list-to-sales ratios are still above average. These, in addition to other often overlooked factors, means that strategic shifts are happening for both buyers and sellers. Whichever side you are on, take a look at this month's Market Update to see what you should be aiming to do. Then call us so we can work together to create the best plan for you!
Stay tuned for our June Market Minute in the next few days.

– Matt , TREC #0754454
It's that time of year again, or as we Texans like to say … "Texas is just starting to pre-heat."
Home maintenance is a year-round chore. But summertime tends to demand extra care.
The following is a list of suggestions for your home maintenance, in preparation of summer that I live by and encourage my clients to as well.
Exterior
Pest Control
There are so many great and affordable options for pest control both in and outside of the home. It's always a good idea to do research on options that are compatible with indoor air, children and pets. Summer heat brings all manner of pests out. Beat the attack of ants, mosquitos, water bugs and spiders. Follow whatever schedule your preferred pest control recommends (some systems require up to three visits before you see results or improvement).
Pool Maintenance
If you have a pool, this is the time to get it ready for those 90+ degree days. Check surface areas for any necessary repairs, clean, fill, filter and make sure you have all your pool maintenance chemicals and cleaning supplies on hand.
Sprinkler System
Texas heat can kill grass faster than you can blink. Summer is a great time to check your sprinkler system (or invest in an option to water your lawn) to keep the lawn green and healthy. Many sprinkler systems run on timers, so double check those settings. The most beneficial times to water your lawn are early morning and late in the evening when the ground has a chance to soak up the moisture before dealing with the heat.
Power Wash
Mold and mildew are real enemies in the south, especially with all the humidity. Power wash the exterior of your home with a mildew remover compatible with your siding. Perform an inspection for any damage that could have been hiding under gunk and build-up.
Replace Damaged Screens
Those flying insects are relentless, and you never know when you may need to crack a window open. Replace any damaged or torn screens around your home. They help out more than you know.
Create Shade
Despite the heat, summer is a wonderful time to get outside and explore. Consider creating shade around your yard, especially in areas where children and pets may play. There are lots of creative and affordable options to make your outdoor space more comfortable.
Give Your Lawn Mower A Tune-Up
If you maintain your own lawn, consider the last time you gave your lawn mower a tune-up. Lawn care equipment requires the same amount of maintenance and TLC as anything else.
Clean Your Grill
I know this is a no-brainer, but it's easy to forget the amount of cleaning a grill requires post-winter hiatus. That semi-annual scrub down before summer cook-offs can be a chore. For propane and gas grills, it is always a good idea to perform an inspection. Especially if they have been sitting for any length of time.
Interior
Energy Efficiency Check-Up
Most of us have invested in energy efficient homes and appliances. Texas summers will put these items to the ultimate test. Keep an eye on your electric bill and consumption. Pay special attention to the rating of any energy-efficient items and make sure there is not a decline in their performance.
Appliance Cleaning & Maintenance
Most appliances have filters that require routine cleaning and inspection. These include your dishwasher, washing machine and certain refrigerators. With all the extra use by kids and guests, your appliances deserve a little extra attention and TLC this time of year.
Check On Your Home's Emergency Supplies
This suggestion stems from the fact that Texas summers are often accompanied by hurricanes, storms and occasional rolling black-outs. In the summer it is prudent to make sure that you have a handy container of flashlights, batteries, power banks, cash and other home essential like dry goods, water, etc. on hand and ready. Better safe than sorry is the Texas way.
Celina is truly a city on the rise.

Did you know that when it's fully built out, Celina will have 350,000 residents. That's pretty incredible to think about when you consider it has around 37,000 today.

I love all of the new developments coming to Celina, the Square downtown and the quality of their school system.

Celina has been ranked the #1 fastest growing city in North Texas for three years in a row by the Dallas Business Journal. This ranking really comes as no surprise when you learn about all of the great things they have going on.
Learn about Celina's welcoming atmosphere and thriving economy from my friends at Check Out DFW:
Economic Development
Celina has a population of 37,000 (and is steadily growing). Most residents are young families, with the median age being around 36. Celina's median household income is $98,277, with an average home value of $465,000.
Economic development is a strong focus in the community. The majority of residents are community-minded and committed to shopping locally while supporting their neighbors. With this healthy cultivation of growth, the town is shaping out to become an ideal place for small-town businesses to thrive.
Situated along the coveted Collin County Corridor, Celina's maximum projected buildout population is approximately 350,000.
A Gigabit City
Gigabit cities are places that offer ultra-high-speed broadband that is available citywide at speeds of 1 gigabit per second (1 Gbps) or faster. This makes it easier for residents to access the Internet and allows businesses and schools to thrive and expand.
Celina received its official designation as a Gigabit City from the Office of Governor Greg Abott in 2020.
Community Spirit
Despite the projections of growth and amazing accessibility to technology, Celina is committed to its roots and maintaining a strong community spirit. The town regularly hosts community events, including its series of annual events to keep up the fun and outreach building.
These annual events include Friday Night Farmer's Markets, Movies on The Square, Parkfest, CajunFest, their 4th of July Celebration, Trick-or-Treat on the Square, and Christmas on The Square. You can read more about these events on the city's economic development Facebook page.
Celina School district
For several years in a row, the two school districts serving Celina students — the Celina and Prosper Independent School Districts — have received A ratings from the Texas Education Agency.
Between these two independent school districts there are six elementary schools: Boyer, Bryant, O'Dell, Johnson, Light Farms and Lykins. Four middle schools: Celina Junior High, Reynolds Middle, Rogers Middle, and Rushing Middle, and two high schools: Celina High and Prosper High.
They are all ideally situated within close proximity to Celina's expanding neighborhoods. Read more about Celina ISD here.
The Square
In 1997, the City of Celina was designated as an official Main Street City by the Texas Historical Commission and the National Trust for Historic Preservation. The Square remains the heartbeat of this special place.
They say you can tell a lot about a city's health from its downtown. Celina's historic downtown area is thriving with opportunity and offers dining, shopping, professional services, city offices, and green space within walking distance of the town's pavilion.
Checkout DFW has covered some of the amazing businesses along The Square which attract locals and visitors alike. Dining options include Lucy's on The Square, Toasted Walnut Table and Market, Tender Smokehouse, and Celina Star Café. Shopping options include Willow house Boutique, Annie Jack, Grace Bridge Resale, and Hey Sugar, candy store to name a few.
There is no shortage of inspiration along the streets of Celina's downtown Square. This is where the town's heritage lives on and where the community gathers, works, and plays.
For more information on Celina or other cities in the Dallas Metroplex, contact Matt Braun at [email protected]