If you're following along with the news today, you've heard about rising inflation. Today, inflation is at a 40-year high. According to the National Association of Home Builders (NAHB):
"Consumer prices accelerated again in May as shelter, energy and food prices continued to surge at the fastest pace in decades. This marked the third straight month for inflation above an 8% rate and was the largest year-over-year gain since December 1981."
With inflation rising, you're likely feeling it impact your day-to-day life as prices go up for gas, groceries, and more. These climbing consumer costs can put a pinch on your wallet and make you re-evaluate any big purchases you have planned to ensure they're still worthwhile.
If you've been thinking about purchasing a home this year, you're probably wondering if you should continue down that path or if it makes more sense to wait. While the answer depends on your situation, here's how homeownership can help you combat the rising costs that come with inflation.
Homeownership Helps You Stabilize One of Your Biggest Monthly Expenses
Investopedia explains that during a period of high inflation, prices rise across the board. That's true for things like food, entertainment, and other goods and services, even housing. Both rental prices and home prices are on the rise. So, as a buyer, how can you protect yourself from increasing costs? The answer lies in homeownership.
Buying a home allows you to stabilize what's typically your biggest monthly expense: your housing cost. When you have a fixed-rate mortgage on your home, you lock in your monthly payment for the duration of your loan, often 15 to 30 years. James Royal, Senior Wealth Management Reporter at Bankrate, says:
"A fixed-rate mortgage allows you to maintain the biggest portion of housing expenses at the same payment. Sure, property taxes will rise and other expenses may creep up, but your monthly housing payment remains the same. That's certainly not the case if you're renting."
So even if other prices increase, your housing payment will be a reliable amount that can help keep your budget in check. If you rent, you don't have that same benefit, and you won't be protected from rising housing costs.
Investing in an Asset That Historically Outperforms Inflation
While it's true rising home prices and higher mortgage rates mean that buying a house today costs more than it did even a few months ago, you still have an opportunity to set yourself up for a long-term win. That's because, in inflationary times, you want to be invested in an asset that outperforms inflation and typically holds or grows in value.
The graph below shows how the average home price appreciation outperformed the average inflation rate in most decades going all the way back to the seventies – making homeownership a historically strong hedge against inflation (see graph below):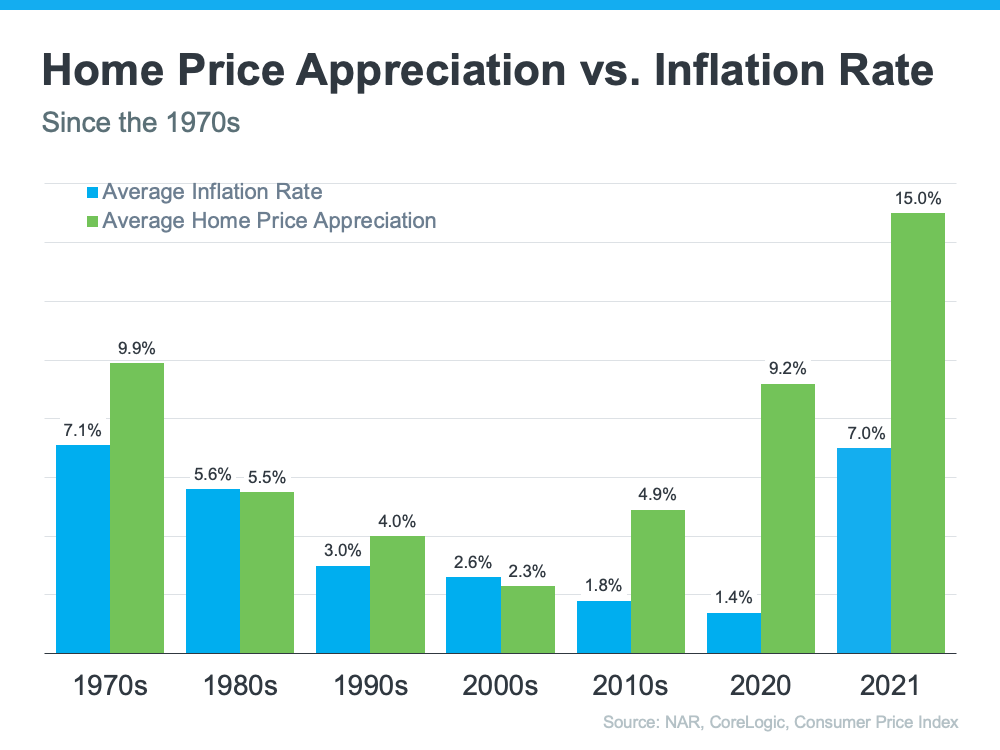 So, what does that mean for you? Today, experts forecast home prices will only go up from here thanks to the ongoing imbalance of supply and demand. Once you buy a house, any home price appreciation that does occur will grow your equity and your net worth. And since homes are typically assets that grow in value, you have peace of mind that history shows your investment is a strong one.
That means, if you're ready and able, it makes sense to buy today before prices rise further.
Bottom Line
If you've been thinking about buying a home this year, it makes sense to act soon, even with inflation rising. That way you can stabilize your monthly housing cost and invest in an asset that historically outperforms inflation. If you're ready to get started, let's connect so you have expert advice on your specific situation when you're ready to buy a home.
Check out some tips from the experts below!
Once you've applied for a mortgage to buy a home, there are some key things to keep in mind. While it's exciting to start thinking about moving in and decorating, be careful when it comes to making any big purchases. Here are a few things you may not realize you need to avoid after applying for your home loan.
Don't Deposit Large Sums of Cash
Lenders need to source your money, and cash isn't easily traceable. Before you deposit any amount of cash into your accounts, discuss the proper way to document your transactions with your loan officer.
Don't Make Any Large Purchases
It's not just home-related purchases that could disqualify you from your loan. Any large purchases can be red flags for lenders. People with new debt have higher debt-to-income ratios (how much debt you have compared to your monthly income). Since higher ratios make for riskier loans, borrowers may no longer qualify for their mortgage. Resist the temptation to make any large purchases, even for furniture or appliances.
Don't Co-Sign Loans for Anyone
When you co-sign for a loan, you're making yourself accountable for that loan's success and repayment. With that obligation comes higher debt-to-income ratios as well. Even if you promise you won't be the one making the payments, your lender will have to count the payments against you.
Don't Switch Bank Accounts
Lenders need to source and track your assets. That task is much easier when there's consistency among your accounts. Before you transfer any money, speak with your loan officer.
Don't Apply for New Credit
It doesn't matter whether it's a new credit card or a new car. When you have your credit report run by organizations in multiple financial channels (mortgage, credit card, auto, etc.), it will have an impact on your FICO® score. Lower credit scores can determine your mortgage interest rate and possibly even your eligibility for approval.
Don't Close Any Accounts
Many buyers believe having less available credit makes them less risky and more likely to be approved. This isn't true. A major component of your score is your length and depth of credit history (as opposed to just your payment history) and your total usage of credit as a percentage of available credit. Closing accounts has a negative impact on both of those aspects of your score.
In Short, Consult an Expert
To sum it up, be upfront about any changes when talking with your lender. Blips in income, assets, or credit should be reviewed and executed in a way that ensures your home loan can still be approved. If your job or employment status has changed recently, share that with your lender as well. Ultimately, it's best to fully disclose and discuss your intentions with your loan officer before you do anything financial in nature.
Bottom Line
You want your home purchase to go as smoothly as possible. Remember, before you make any large purchases, move your money around, or make any major life changes, be sure to consult your lender – someone who's qualified to explain how your financial decisions may impact your home loan.
As the real estate market changes, it's important to have a running start on your home buying journey.
Here are three things to keep in mind — from mortgage rates to buying power — as you navigate the housing market.
What's going on with mortgage rates?
As consumers, we have been spoiled with historically low interest rates that held out for an uncommonly long time. As interest rates begin to fluctuate, it is common to feel concern, especially for first-time home buyers.
Understanding the cause and effect behind rate increases can help reduce worry over market changes. Interest rates directly influence a buyer's buying power. Real estate agents can help you understand what this means and what steps you can take to better prepare for it.
I often advise clients to check with the financing institution with whom they have a working relationship. This institution will already have your financial history and a personal gain in maintaining your business. They are best equipped to help you understand your buying power.
Know your buying power
Increased interest rates will increase mortgage payments, and this ultimately influences how much buying power you have. Knowing your buying power is an important factor when it comes to entering the housing market.
It is especially important to understand what you can afford monthly (in terms of payments) and how much of a down payment you need to get the monthly payments where you need them. Many people would rather look for lower costs vs. having to produce more of a down payment, but it is always good to have options.
Don't be afraid to shop lenders
I have a working relationship with several lenders, and I encourage my clients to shop around for the best rate when going through the pre-approval process. A home is one of the largest purchases you will ever make, and even though refinancing is an option later down the road, you should feel confident in your purchase and the process of paying it off for the foreseeable future. Plus, it is always in the buyer's favor to come to the market prepared.
When selling your home, there are a number of tasks to take care of in order to ensure that your home is enticing to potential buyers.
If you happen to have a pool in your backyard, it is important to pay special attention to it as well. The pool is a part of your home – it is a selling point. Thus, it is crucial that you take care of it before selling.
Here is a quick and easy Summer pool checklist to look over and make sure that your pool will support your home-selling process!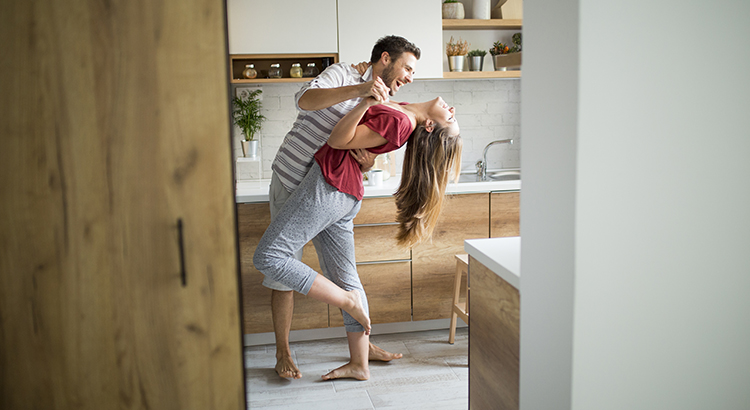 June is National Homeownership Month, and it's the perfect time to reflect on how impactful owning a home can truly be. When you purchase a house, it becomes more than just a space you occupy. It's your stake in the community, an investment, and a place you can put your stamp on.
If you're thinking about buying a home this year, here are some of the benefits you'll experience when you do.
The Emotional Benefits of Homeownership
Because it's a place that's uniquely yours, owning a home can give you a sense of pride and happiness in several ways.
Your Home Can Reflect Your Tastes and Personality
Investopedia puts it like this:
"One often-cited benefit of homeownership is the knowledge that you own your little corner of the world."
That knowledge can lead to a powerful, emotional connection to the place where you live. But so can the realization that your home will grow with you. Because it's yours, you have the freedom to make updates to it as your needs and tastes change. As Logan Mohtashami, Lead Analyst for HousingWire, says:
"The psychology is that this is yours and you're going to make it as good as possible because you're in for a long time, . . . "
And that can create a greater sense of ownership, pride, and connection with your home and your community.
It Can Enhance Your Neighborhood and Civic Engagement
Homeownership can lead you to get even more involved with your local area. After all, you're putting your roots down in a location and will want to do what you can to help improve it, much like your home. In a recent report, the National Association of Realtors (NAR) says:
"Living in one place for a longer amount of time creates and [sic] obvious sense of community pride, which may lead to more investment in said community."
The Financial Benefits of Homeownership
When you choose to become a homeowner, you're making a financial decision as well. That's because your home is also an investment.
It Can Help You Feel Financially Stable
Homeownership is truly one of the best ways to improve your long-term financial position. Not only will you have a predictable monthly housing expense that can benefit your budget in the short term, but you'll also gain equity as your home appreciates in value and you make your monthly mortgage payment. As Freddie Mac says:
"Building equity through your monthly principal payments and appreciation is a critical part of homeownership that can help you create financial stability."
It Can Grow Your Wealth
Because of your growing equity, you can build your net worth as a homeowner. And when you compare the difference in net worth between a renter and a homeowner, it's clear that owning a home truly offers a great way to build your long-term financial position.
According to the latest data from NAR, the median household net worth of a homeowner is roughly $300,000, while the median net worth of renters is only about $8,000. That means a homeowner's net worth is nearly 40 times that of a renter.
Bottom Line
Homeownership is truly a way to find greater satisfaction and happiness and to build financial freedom. If National Homeownership Month has you dreaming about purchasing a home, then let's connect to begin the process today.
Located just thirty minutes from Dallas and forty-five minutes from Fort Worth, Frisco is the perfect location for families or individuals seeking a laid-back city experience.
With a population of 200+ thousand people, you'd expect Frisco to feel like a big city, but it actually has a small town vibe compared to nearby Dallas-Fort Worth (United States Census Bureau). This makes Frisco a fantastic place for families looking to settle down, or individuals ready to start a new life.
A Hot Spot for Families
With low crime rates and an exceptional school system, Frisco, TX is a great town for families.
Frisco's K-12 education system is renowned for its high-quality educators and dedicated district leaders. Both Liberty High School and the private Legacy Christian Academy are in the top 100 of Texas High Schools with a strong focus on academics, sports, and college prep.
In addition to the safe environment and great schools, Frisco is known for both its low cost of living and booming economy. This favorable combination gives Frisco an edge on surrounding areas!

A Foodie's Dream Location
Do you enjoy foods from different cultures and regions of the world? Frisco, Texas is the town for you! Take your pick from an unlimited selection of delicious restaurants sure to take care of any food craving! You name it, Frisco has it; from Chinese and Mexican selections to mouthwatering sushi and world-famous BBQ, Frisco is a dream location for any foodie.
New restaurants are opening each year in Frisco. This means that you will never run out of new cuisine to try. So, whether you want to head downtown for a quick drink or spend hours tasting different courses at a five-star restaurant, you'll never run out of things to do in Frisco!
A reputation for Luxury
Known for its invigorating nightlife and the extraordinary Stonebriar Country Club, Frisco is a top destination for those looking to relax or have a good time. Enjoy a night on the town or head to the country club to relax while getting to know like-minded people over a game of golf.
Lake Lewisville is a local favorite for anyone looking for a "fishing, skiing, swimming, relaxing, and recreational boating" good time. With so many local activities available, it is no wonder why so many are choosing to relocate to Frisco.
Take Those First Steps
Choosing a location near the larger metroplex is a great way to stay close to big-city life without the hassle of actually living inside a big city. For this reason, Frisco, Texas is a prime location for individuals and families hoping to relocate to a safe but entertaining area!
Our team of local experts at Merit Homes are available to answer any questions you have about the Frisco, Texas area. For more expert information about the Frisco housing market and what your next steps should be in order to move, we invite you to Contact Matt Braun any time!
There are many reasons why homebuyers love new construction. They get to move into a brand-new house that has the latest and greatest finishes and will likely have little maintenance in the near future. While the process may seem straightforward, there are lots of things that buyers need to be aware of. Having a real estate agent in your corner can help you avoid the many headaches associated with going the new construction route.
Selecting the Right Builder
Most agents are very familiar with the various builders in their area. They understand which builders have the best price points, who specialize in certain styles of homes (production, semi-custom, custom, etc.), what materials a builder uses, and whether the builder has a reputation for having good or bad quality or is responsive to service requests after-closing.
By sitting down with an agent and explaining your goals and requirements, they can save you a lot of time by immediately narrowing down the list of builders who are best suited for your project.
Selecting the Right Community, Floor Plan, and Lot
Agents help guide buyers through the selection process to ensure that the floor plan, community, and lot aligns with the buyer's individual needs. There are some floor plans and communities that may be hard to resell. An agent will be able to point out these potential challenges. An agent can also help identify poor lot orientations or difficult soil conditions.
Selecting Options
When you visit a builder to tour a model home, you will likely be presented with a model that has all of the optional features and upgrades. This is intentional as the builder's number one priority is to sell each house for the highest possible price. Not every upgrade adds significant value to the property. A real estate agent can help their clients pick the best options to maximize their investment. An agent also knows which options are highly marked-up in order to assist with negotiating a better deal.
Having an Advocate in Your Corner
The on-site agent at the model home may look and sound like someone who is there to help you. However, this representative works for the builder and is there to represent their employer's best interests. Agents are licensed professionals bound by law and professional ethics, while the builder's sales representatives are not constrained by those requirements. A good quality agent will be able to see through what is truth and what is a sales pitch.

Once you have reached a decision on which builder to use and which model you would like, it's time for the real work to begin. Now it's time for your real estate agent to negotiate with the builder and lock down the purchase of your new property!