As the real estate market changes, it's important to have a running start on your home buying journey.
Here are three things to keep in mind — from mortgage rates to buying power — as you navigate the housing market.
What's going on with mortgage rates?
As consumers, we have been spoiled with historically low interest rates that held out for an uncommonly long time. As interest rates begin to fluctuate, it is common to feel concern, especially for first-time home buyers.
Understanding the cause and effect behind rate increases can help reduce worry over market changes. Interest rates directly influence a buyer's buying power. Real estate agents can help you understand what this means and what steps you can take to better prepare for it.
I often advise clients to check with the financing institution with whom they have a working relationship. This institution will already have your financial history and a personal gain in maintaining your business. They are best equipped to help you understand your buying power.
Know your buying power
Increased interest rates will increase mortgage payments, and this ultimately influences how much buying power you have. Knowing your buying power is an important factor when it comes to entering the housing market.
It is especially important to understand what you can afford monthly (in terms of payments) and how much of a down payment you need to get the monthly payments where you need them. Many people would rather look for lower costs vs. having to produce more of a down payment, but it is always good to have options.
Don't be afraid to shop lenders
I have a working relationship with several lenders, and I encourage my clients to shop around for the best rate when going through the pre-approval process. A home is one of the largest purchases you will ever make, and even though refinancing is an option later down the road, you should feel confident in your purchase and the process of paying it off for the foreseeable future. Plus, it is always in the buyer's favor to come to the market prepared.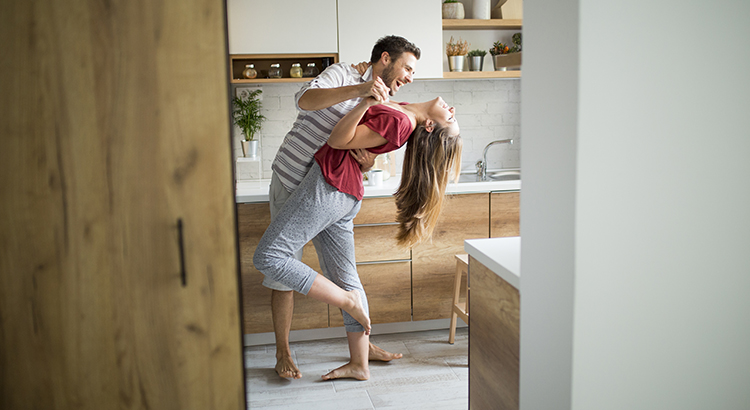 June is National Homeownership Month, and it's the perfect time to reflect on how impactful owning a home can truly be. When you purchase a house, it becomes more than just a space you occupy. It's your stake in the community, an investment, and a place you can put your stamp on.
If you're thinking about buying a home this year, here are some of the benefits you'll experience when you do.
The Emotional Benefits of Homeownership
Because it's a place that's uniquely yours, owning a home can give you a sense of pride and happiness in several ways.
Your Home Can Reflect Your Tastes and Personality
Investopedia puts it like this:
"One often-cited benefit of homeownership is the knowledge that you own your little corner of the world."
That knowledge can lead to a powerful, emotional connection to the place where you live. But so can the realization that your home will grow with you. Because it's yours, you have the freedom to make updates to it as your needs and tastes change. As Logan Mohtashami, Lead Analyst for HousingWire, says:
"The psychology is that this is yours and you're going to make it as good as possible because you're in for a long time, . . . "
And that can create a greater sense of ownership, pride, and connection with your home and your community.
It Can Enhance Your Neighborhood and Civic Engagement
Homeownership can lead you to get even more involved with your local area. After all, you're putting your roots down in a location and will want to do what you can to help improve it, much like your home. In a recent report, the National Association of Realtors (NAR) says:
"Living in one place for a longer amount of time creates and [sic] obvious sense of community pride, which may lead to more investment in said community."
The Financial Benefits of Homeownership
When you choose to become a homeowner, you're making a financial decision as well. That's because your home is also an investment.
It Can Help You Feel Financially Stable
Homeownership is truly one of the best ways to improve your long-term financial position. Not only will you have a predictable monthly housing expense that can benefit your budget in the short term, but you'll also gain equity as your home appreciates in value and you make your monthly mortgage payment. As Freddie Mac says:
"Building equity through your monthly principal payments and appreciation is a critical part of homeownership that can help you create financial stability."
It Can Grow Your Wealth
Because of your growing equity, you can build your net worth as a homeowner. And when you compare the difference in net worth between a renter and a homeowner, it's clear that owning a home truly offers a great way to build your long-term financial position.
According to the latest data from NAR, the median household net worth of a homeowner is roughly $300,000, while the median net worth of renters is only about $8,000. That means a homeowner's net worth is nearly 40 times that of a renter.
Bottom Line
Homeownership is truly a way to find greater satisfaction and happiness and to build financial freedom. If National Homeownership Month has you dreaming about purchasing a home, then let's connect to begin the process today.
Springs are amazing in Texas: The weather warms up a little, patios begin to fill in and we all start thinking about pool season and summer vacations.

But the spring also means it's time for spring cleaning. While no one enjoys cleaning, doing certain things around your house in the spring can protect your home — and your wallet — for years to come.

I have seen the return on my home and homes I have sold by doing just a few simple things that keep your house updated and looking beautiful.

Check out these 5 tips from my friends at Check Out DFW to do around your home and garden. Your summer self will thank you.
1. Spring cleaning
Spring cleaning is a necessity in Texas thanks to this season's new blooms of allergen-inducing particles.
This time of year is perfect for washing any linens that do not see regular rotation in the washing machine. Linens such as curtains, bedspreads, duvets, and decorative textiles.
This is also a wonderful time to shampoo carpets and upholstery. Including your car. You can rent a shampoo cleaner from most supermarkets or other suppliers for an affordable price (Most Walmart stores offer carpet cleaners for rent at $30/day or $40 for 48 hours. The cleaning solution is extra and varies from $10-$30).
Many Texans have dusting as a weekly chore, but fans and hard-to-reach places also need a good dusting.
2. Clean and insulate your home's exterior
We all remember the old childhood rhyme, "spring showers." Springtime absolutely brings lots of rain and other weather surprises.
Cleaning out your home's gutters is an important part of protecting your home's investment. While you have the ladder out, this is also a good time to inspect the roof.
Many Texans often look at roof repairs and replacements prior to hurricane season in the late summer.
Check for any cracks in the foundation too, not just the base but along the sides under ceilings.
Lastly, the heat and cold rotation can cause the weather stripping around windows to fail. Sometimes a simple cleaning and re-caulking around windows can prevent any future leaks or damage. This will also help to insulate your home for the summer heat coming.
3. A/C maintenance and inspection
No air conditioning during a Texas summer is the worst. Some of us have unfortunately undergone it, and nothing will motivate you more to take care of your home's air conditioning unit.
There are many businesses that offer inspection services and maintenance packages for your home's a/c unit. They will clean the coils, check for cracks, tighten bolts and top off freon.
Some of these businesses will inspect attics and may offer duct cleaning as well. It's worth getting a quote as all of these components contribute to your home's cooling system. Having an energy-efficient and well-insulated home is important but keeping the heart of your home's cooling system is vital.
4. Lawn Care
Springtime is a suitable time to fertilize and treat your lawn. This is a simple and affordable process that can save you a lot of expense and time in the summer. For a helpful guide on current lawn fertilizers and what they offer, check out this site.
Treat for any lawn pests while you fertilize.
It's also an excellent time to fertilize and get your flower and garden beds ready (whether in-ground or above).
Trees also need cultivation, make sure that any dead leaves are raked away from tree beds.
Trim any bushes or hedges and rake out those dead leaves and grass. While this can be time intensive, it provides an instant face lift for your yard. Adding new fertilizer and using lawn treatment around bushes and hedges will also help to keep all those annoying insects away.
5. Planting/Gardening
While it does depend on your zone area (you can look it up here), many Texans plant spring gardens and do landscaping work in April, after Easter. Weather patterns are such that most of Texas is free from fear of freezing or deadly frost by then.
Most folks will go ahead and bring out their porch plants and start recreating an outdoor oasis. Just in time for warm weather and longer days.
While you're outside on your porch, spring is also a good time to clean off any patio furniture and fixtures. Sometimes a simple cleaning or touch of paint can save you lots of money on your home's next season look.
There are many reasons why homebuyers love new construction. They get to move into a brand-new house that has the latest and greatest finishes and will likely have little maintenance in the near future. While the process may seem straightforward, there are lots of things that buyers need to be aware of. Having a real estate agent in your corner can help you avoid the many headaches associated with going the new construction route.
Selecting the Right Builder
Most agents are very familiar with the various builders in their area. They understand which builders have the best price points, who specialize in certain styles of homes (production, semi-custom, custom, etc.), what materials a builder uses, and whether the builder has a reputation for having good or bad quality or is responsive to service requests after-closing.
By sitting down with an agent and explaining your goals and requirements, they can save you a lot of time by immediately narrowing down the list of builders who are best suited for your project.
Selecting the Right Community, Floor Plan, and Lot
Agents help guide buyers through the selection process to ensure that the floor plan, community, and lot aligns with the buyer's individual needs. There are some floor plans and communities that may be hard to resell. An agent will be able to point out these potential challenges. An agent can also help identify poor lot orientations or difficult soil conditions.
Selecting Options
When you visit a builder to tour a model home, you will likely be presented with a model that has all of the optional features and upgrades. This is intentional as the builder's number one priority is to sell each house for the highest possible price. Not every upgrade adds significant value to the property. A real estate agent can help their clients pick the best options to maximize their investment. An agent also knows which options are highly marked-up in order to assist with negotiating a better deal.
Having an Advocate in Your Corner
The on-site agent at the model home may look and sound like someone who is there to help you. However, this representative works for the builder and is there to represent their employer's best interests. Agents are licensed professionals bound by law and professional ethics, while the builder's sales representatives are not constrained by those requirements. A good quality agent will be able to see through what is truth and what is a sales pitch.

Once you have reached a decision on which builder to use and which model you would like, it's time for the real work to begin. Now it's time for your real estate agent to negotiate with the builder and lock down the purchase of your new property!