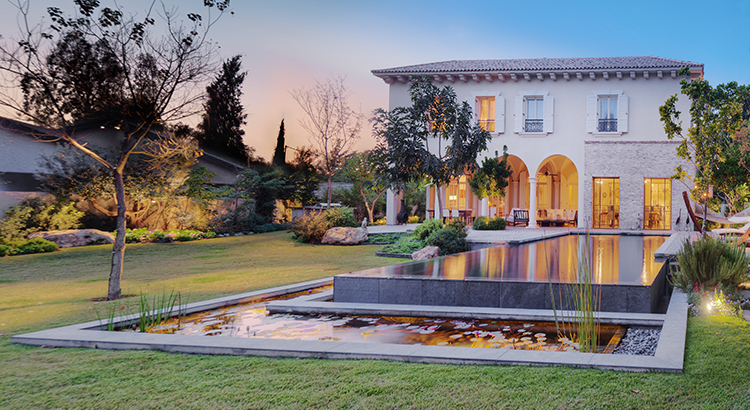 As people realize their needs are changing, some are turning to luxury housing to find their dream home. Investopedia helps define what pushes a home into this category. In a recent article, they point out that a luxury home isn't only defined by its price. Location is also an important factor. It could be a condo at a desirable city address, a spacious home on the water, or one with access to luxury activities like arts and entertainment, high-end shopping and dining, and more. The home itself will also boast some of the finest features available.
According to the Luxury Market Report from the Institute for Luxury Home Marketing, there's been a substantial increase in how many buyers are purchasing luxury homes over the past two years. It says:
". . . North America recorded the fastest growth of demand during the first year of the pandemic. Also, demand has . . . consistently increased, and even in April 2022, we saw a higher volume of sales compared to 2021."
If you own a luxury home, it could be a great time to list your house today while demand is so high. But first, let's understand where the demand is coming from.
What's Driving the Heightened Buyer Demand for High-End Homes?
The same report says more people have reached a certain net-worth threshold, and that's contributing to the increased interest in luxury housing:
"In 2020, we saw a 2.2% growth in the number of individuals with wealth of over $5 million in net value, but in 2021 that number grew by an outstanding 19.8%.

This total increase has resulted in the introduction of over 660,000 new individuals into the high net-worth bracket, which, combined with the existing affluent looking to both diversify and add new properties to their portfolio, provides a true insight into why the demand for luxury properties skyrocketed during 2021 and into 2022."
So, if you're looking to make changes to your real estate portfolio or are looking to sell your current house, it may be a great time to list and benefit from the high demand for luxury homes today.
Bottom Line
If you own a luxury home and want to know how strong demand is in your area, let's connect so you can capitalize on current market conditions while buyer demand for upscale homes is so high.
As the real estate market changes, it's important to have a running start on your home buying journey.
Here are three things to keep in mind — from mortgage rates to buying power — as you navigate the housing market.
What's going on with mortgage rates?
As consumers, we have been spoiled with historically low interest rates that held out for an uncommonly long time. As interest rates begin to fluctuate, it is common to feel concern, especially for first-time home buyers.
Understanding the cause and effect behind rate increases can help reduce worry over market changes. Interest rates directly influence a buyer's buying power. Real estate agents can help you understand what this means and what steps you can take to better prepare for it.
I often advise clients to check with the financing institution with whom they have a working relationship. This institution will already have your financial history and a personal gain in maintaining your business. They are best equipped to help you understand your buying power.
Know your buying power
Increased interest rates will increase mortgage payments, and this ultimately influences how much buying power you have. Knowing your buying power is an important factor when it comes to entering the housing market.
It is especially important to understand what you can afford monthly (in terms of payments) and how much of a down payment you need to get the monthly payments where you need them. Many people would rather look for lower costs vs. having to produce more of a down payment, but it is always good to have options.
Don't be afraid to shop lenders
I have a working relationship with several lenders, and I encourage my clients to shop around for the best rate when going through the pre-approval process. A home is one of the largest purchases you will ever make, and even though refinancing is an option later down the road, you should feel confident in your purchase and the process of paying it off for the foreseeable future. Plus, it is always in the buyer's favor to come to the market prepared.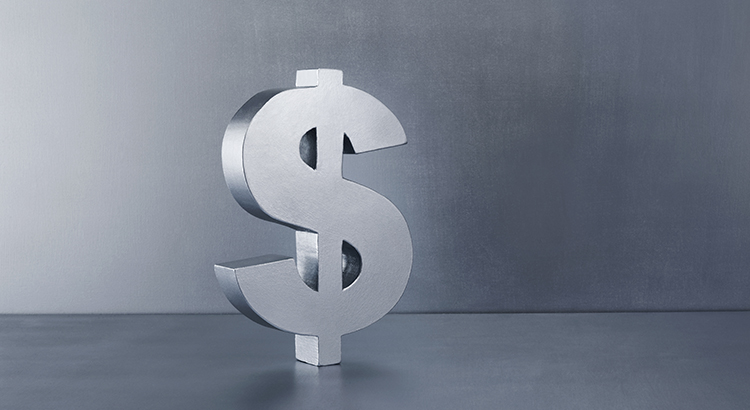 Experts in the real estate industry use a number of terms when they talk about what's happening with home prices. And some of those words sound a bit similar but mean very different things. To help clarify what's happening with home prices and where experts say they're going, here's a look at a few terms you may hear:
Appreciation is when home prices increase.
Depreciation is when home prices decrease.
Deceleration is when home prices continue to appreciate, but at a slower pace.
Where Home Prices Have Been in Recent Years
For starters, you've probably heard home prices have skyrocketed over the past two years, but homes were actually appreciating long before that. You might be surprised to learn that home prices have climbed for 122 consecutive months (see graph below):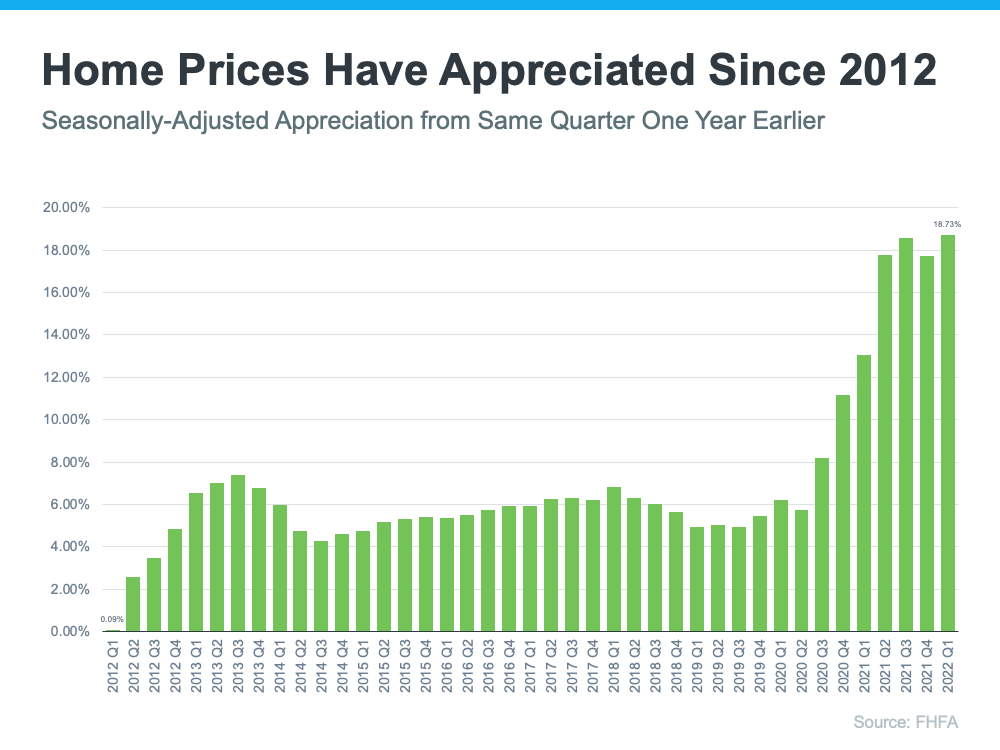 As the graph shows, houses have gained value consistently over the past 10 consecutive years. But since 2020, the increase has been more dramatic as home price growth accelerated.
So why did home prices climb so much? It's because there were more buyers than there were homes for sale. That imbalance put upward pressure on home prices because demand was high and supply was low.
Where Experts Say Home Prices Are Going
While this is helpful context, if you're a buyer or seller in today's market, you probably want to know what's going to happen with home prices moving forward. Will they continue that same growth path or will home prices fall?
Experts are forecasting ongoing appreciation, just at a decelerated pace. In other words, prices will keep climbing, just not as fast as they have been. The graph below shows home price forecasts from seven industry leaders. None are calling for prices to fall (see graph below):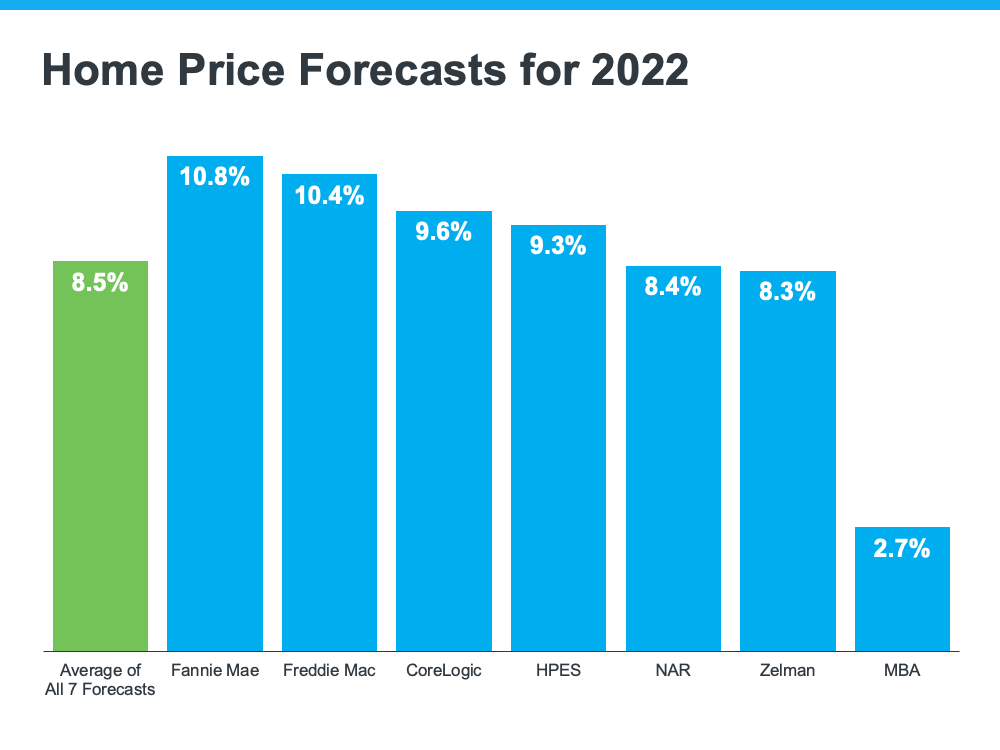 Mark Fleming, Chief Economist at First American, identifies a key reason why home prices won't depreciate or drop:
"In today's housing market, demand for homes continues to outpace supply, which is keeping the pressure on house prices, so don't expect house prices to decline."
And although housing supply is starting to tick up, it's not enough to make home prices decline because there's still a gap between the number of homes available for sale and the volume of buyers looking to make a purchase.
Terry Loebs, Founder of the research firm Pulsenomics, notes that most real estate experts and economists anticipate home prices will continue rising. As he puts it:
"With home values at record-high levels and a vast majority of experts projecting additional price increases this year and beyond, home prices and expectations remain buoyant."
Bottom Line
Experts forecast price deceleration, not depreciation. That means home prices will continue to rise, just at a slower pace. Let's connect so you can get the full picture of what's happening with home prices in our local market and to discuss your buying and selling goals.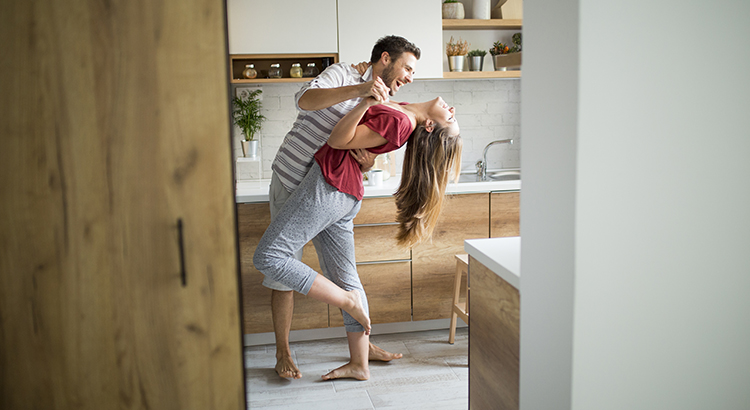 June is National Homeownership Month, and it's the perfect time to reflect on how impactful owning a home can truly be. When you purchase a house, it becomes more than just a space you occupy. It's your stake in the community, an investment, and a place you can put your stamp on.
If you're thinking about buying a home this year, here are some of the benefits you'll experience when you do.
The Emotional Benefits of Homeownership
Because it's a place that's uniquely yours, owning a home can give you a sense of pride and happiness in several ways.
Your Home Can Reflect Your Tastes and Personality
Investopedia puts it like this:
"One often-cited benefit of homeownership is the knowledge that you own your little corner of the world."
That knowledge can lead to a powerful, emotional connection to the place where you live. But so can the realization that your home will grow with you. Because it's yours, you have the freedom to make updates to it as your needs and tastes change. As Logan Mohtashami, Lead Analyst for HousingWire, says:
"The psychology is that this is yours and you're going to make it as good as possible because you're in for a long time, . . . "
And that can create a greater sense of ownership, pride, and connection with your home and your community.
It Can Enhance Your Neighborhood and Civic Engagement
Homeownership can lead you to get even more involved with your local area. After all, you're putting your roots down in a location and will want to do what you can to help improve it, much like your home. In a recent report, the National Association of Realtors (NAR) says:
"Living in one place for a longer amount of time creates and [sic] obvious sense of community pride, which may lead to more investment in said community."
The Financial Benefits of Homeownership
When you choose to become a homeowner, you're making a financial decision as well. That's because your home is also an investment.
It Can Help You Feel Financially Stable
Homeownership is truly one of the best ways to improve your long-term financial position. Not only will you have a predictable monthly housing expense that can benefit your budget in the short term, but you'll also gain equity as your home appreciates in value and you make your monthly mortgage payment. As Freddie Mac says:
"Building equity through your monthly principal payments and appreciation is a critical part of homeownership that can help you create financial stability."
It Can Grow Your Wealth
Because of your growing equity, you can build your net worth as a homeowner. And when you compare the difference in net worth between a renter and a homeowner, it's clear that owning a home truly offers a great way to build your long-term financial position.
According to the latest data from NAR, the median household net worth of a homeowner is roughly $300,000, while the median net worth of renters is only about $8,000. That means a homeowner's net worth is nearly 40 times that of a renter.
Bottom Line
Homeownership is truly a way to find greater satisfaction and happiness and to build financial freedom. If National Homeownership Month has you dreaming about purchasing a home, then let's connect to begin the process today.