Dallas-based Merit Homes provides real time updates of all properties for sale so you have direct access to homes throughout the Dallas Metroplex. Contact us today to sell or buy your next property! (214) 903-6727
Written by guest blogger, Sharon Wagner
As our loved ones age, they often depend on us for assistance with daily tasks. It can be anything from getting dressed or preparing meals to going out in public or just being a friend. Liberty HomeCare and Hospice Services notes that being near family and socializing with them offers many benefits like longer life, better mental health, and even a stronger immune system.
The key to longevity is to keep the person you love healthy and happy. This can be done by moving closer to them, which means relocating your business as well if you're a business owner. Moving closer will help them feel safer and more secure, which will make them happier in their life and in their retirement.
The best time for you to move closer is when they are still healthy and mobile but not as active as before. The other option is when they are no longer able to live on their own.
Moving close will allow your loved one to maintain a certain level of independence while being near you at the same time. It will also help them get the care they need without having to leave home or move into a nursing home. If you're a small business owner with aging parents and planning to move, Merit Homes has some tips and resources to help you.
Your First Point of Contact
Your first point of contact when you plan a move should be a qualified real estate agent for the area you're moving to. You should be able to use their site to search for homes digitally, so you're not spending valuable time traveling to and from your target city until you've narrowed the list of options online.
The Realtors at Merit Homes offer a digital resource for buying and selling homes in the Dallas Metroplex. You can have real-time updates of all properties for sale so you have direct access to everything you need to know, including all current market statistics and listings.
When you're checking out which moving company to use, you want to make sure that you're getting one that has good reviews and that will properly manage your belongings. Filter for things that are important to you, such as piano movers near me. When meeting with a moving company to get a quote, ask about any discounts they may offer for things like flexibility with your move date.
Moving as a Business Owner
As in all things, early planning is crucial to making things go off without a hitch. Use an organizing tool like Google Keep to tick off tasks as they are completed. This is a tool that lets everyone on your team get on the same page so you can keep track of what chores have been completed and what duties are still outstanding. This list-sharing system can be accessed on either your Android or iPhone.
IT and tech are areas that can cause issues when relocating to a new location as a business. Plan with your IT team about how you'll get up and running once you've moved.
In order to minimize downtime as much as possible, you should have a few people working remotely during the move so that you are not completely offline during this period.
Give your clients and vendors a heads up early enough for them to address their own business concerns. Plan to update your business and marketing materials with your new address so that as soon as you have the details you can make it happen quickly.
Store business items you need to keep safe and separate from your personal belongings in order to ensure their safety. Check prices in your current city and your target city to find the one that offers the best value. For instance, a storage unit in Beacon Falls, CT, can start at $111 per month, but in Dallas, the prices start at $34 for a small unit according to CubeSmart Self Storage.
And finally, expect there to be some glitches along the way, but celebrate with everyone once you've had a successful move.
Planning your move early and contacting a qualified Realtor like Matt Braun at Merit Homes can go a long way to giving you the best outcome possible. And using storage for your business items and getting employees to work remotely means a lot less downtime for your company. Moving closer to your senior loved one can bring a lot of benefits, such as increased quality time, lower stress levels, and less loneliness.
If you're following along with the news today, you've heard about rising inflation. Today, inflation is at a 40-year high. According to the National Association of Home Builders (NAHB):
"Consumer prices accelerated again in May as shelter, energy and food prices continued to surge at the fastest pace in decades. This marked the third straight month for inflation above an 8% rate and was the largest year-over-year gain since December 1981."
With inflation rising, you're likely feeling it impact your day-to-day life as prices go up for gas, groceries, and more. These climbing consumer costs can put a pinch on your wallet and make you re-evaluate any big purchases you have planned to ensure they're still worthwhile.
If you've been thinking about purchasing a home this year, you're probably wondering if you should continue down that path or if it makes more sense to wait. While the answer depends on your situation, here's how homeownership can help you combat the rising costs that come with inflation.
Homeownership Helps You Stabilize One of Your Biggest Monthly Expenses
Investopedia explains that during a period of high inflation, prices rise across the board. That's true for things like food, entertainment, and other goods and services, even housing. Both rental prices and home prices are on the rise. So, as a buyer, how can you protect yourself from increasing costs? The answer lies in homeownership.
Buying a home allows you to stabilize what's typically your biggest monthly expense: your housing cost. When you have a fixed-rate mortgage on your home, you lock in your monthly payment for the duration of your loan, often 15 to 30 years. James Royal, Senior Wealth Management Reporter at Bankrate, says:
"A fixed-rate mortgage allows you to maintain the biggest portion of housing expenses at the same payment. Sure, property taxes will rise and other expenses may creep up, but your monthly housing payment remains the same. That's certainly not the case if you're renting."
So even if other prices increase, your housing payment will be a reliable amount that can help keep your budget in check. If you rent, you don't have that same benefit, and you won't be protected from rising housing costs.
Investing in an Asset That Historically Outperforms Inflation
While it's true rising home prices and higher mortgage rates mean that buying a house today costs more than it did even a few months ago, you still have an opportunity to set yourself up for a long-term win. That's because, in inflationary times, you want to be invested in an asset that outperforms inflation and typically holds or grows in value.
The graph below shows how the average home price appreciation outperformed the average inflation rate in most decades going all the way back to the seventies – making homeownership a historically strong hedge against inflation (see graph below):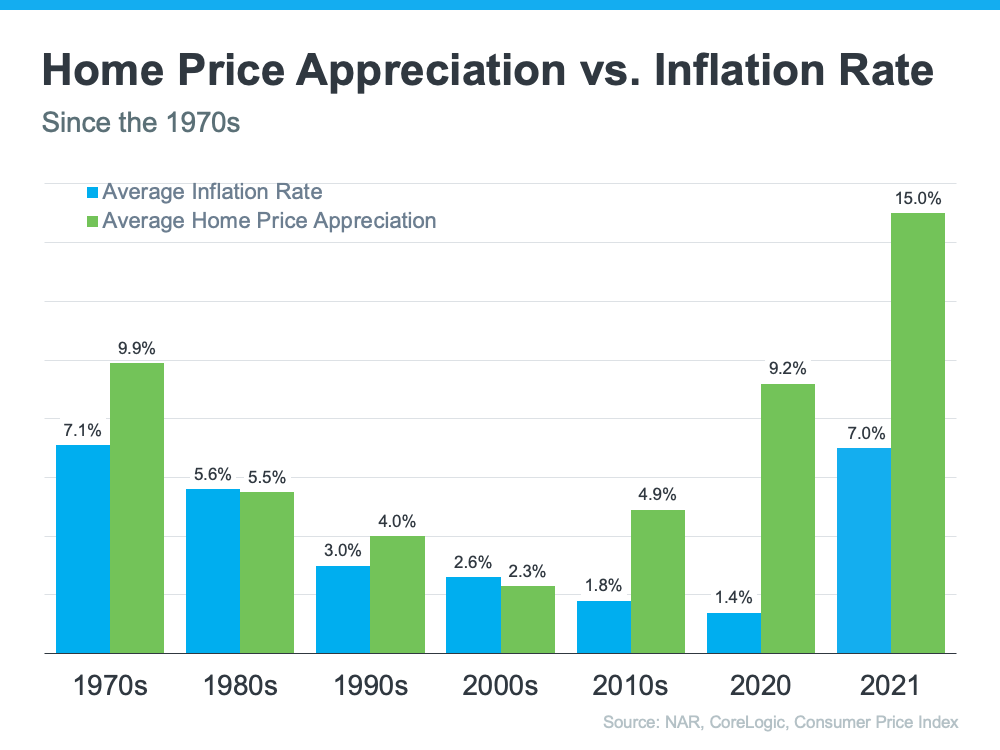 So, what does that mean for you? Today, experts forecast home prices will only go up from here thanks to the ongoing imbalance of supply and demand. Once you buy a house, any home price appreciation that does occur will grow your equity and your net worth. And since homes are typically assets that grow in value, you have peace of mind that history shows your investment is a strong one.
That means, if you're ready and able, it makes sense to buy today before prices rise further.
Bottom Line
If you've been thinking about buying a home this year, it makes sense to act soon, even with inflation rising. That way you can stabilize your monthly housing cost and invest in an asset that historically outperforms inflation. If you're ready to get started, let's connect so you have expert advice on your specific situation when you're ready to buy a home.
Check out some tips from the experts below!
As the real estate market changes, it's important to have a running start on your home buying journey.
Here are three things to keep in mind — from mortgage rates to buying power — as you navigate the housing market.
What's going on with mortgage rates?
As consumers, we have been spoiled with historically low interest rates that held out for an uncommonly long time. As interest rates begin to fluctuate, it is common to feel concern, especially for first-time home buyers.
Understanding the cause and effect behind rate increases can help reduce worry over market changes. Interest rates directly influence a buyer's buying power. Real estate agents can help you understand what this means and what steps you can take to better prepare for it.
I often advise clients to check with the financing institution with whom they have a working relationship. This institution will already have your financial history and a personal gain in maintaining your business. They are best equipped to help you understand your buying power.
Know your buying power
Increased interest rates will increase mortgage payments, and this ultimately influences how much buying power you have. Knowing your buying power is an important factor when it comes to entering the housing market.
It is especially important to understand what you can afford monthly (in terms of payments) and how much of a down payment you need to get the monthly payments where you need them. Many people would rather look for lower costs vs. having to produce more of a down payment, but it is always good to have options.
Don't be afraid to shop lenders
I have a working relationship with several lenders, and I encourage my clients to shop around for the best rate when going through the pre-approval process. A home is one of the largest purchases you will ever make, and even though refinancing is an option later down the road, you should feel confident in your purchase and the process of paying it off for the foreseeable future. Plus, it is always in the buyer's favor to come to the market prepared.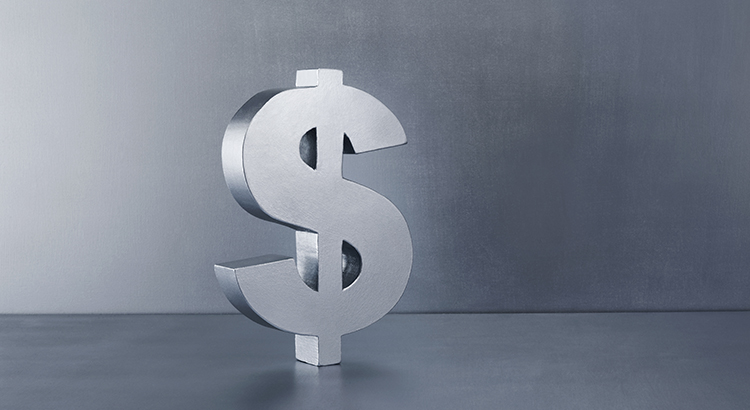 Experts in the real estate industry use a number of terms when they talk about what's happening with home prices. And some of those words sound a bit similar but mean very different things. To help clarify what's happening with home prices and where experts say they're going, here's a look at a few terms you may hear:
Appreciation is when home prices increase.
Depreciation is when home prices decrease.
Deceleration is when home prices continue to appreciate, but at a slower pace.
Where Home Prices Have Been in Recent Years
For starters, you've probably heard home prices have skyrocketed over the past two years, but homes were actually appreciating long before that. You might be surprised to learn that home prices have climbed for 122 consecutive months (see graph below):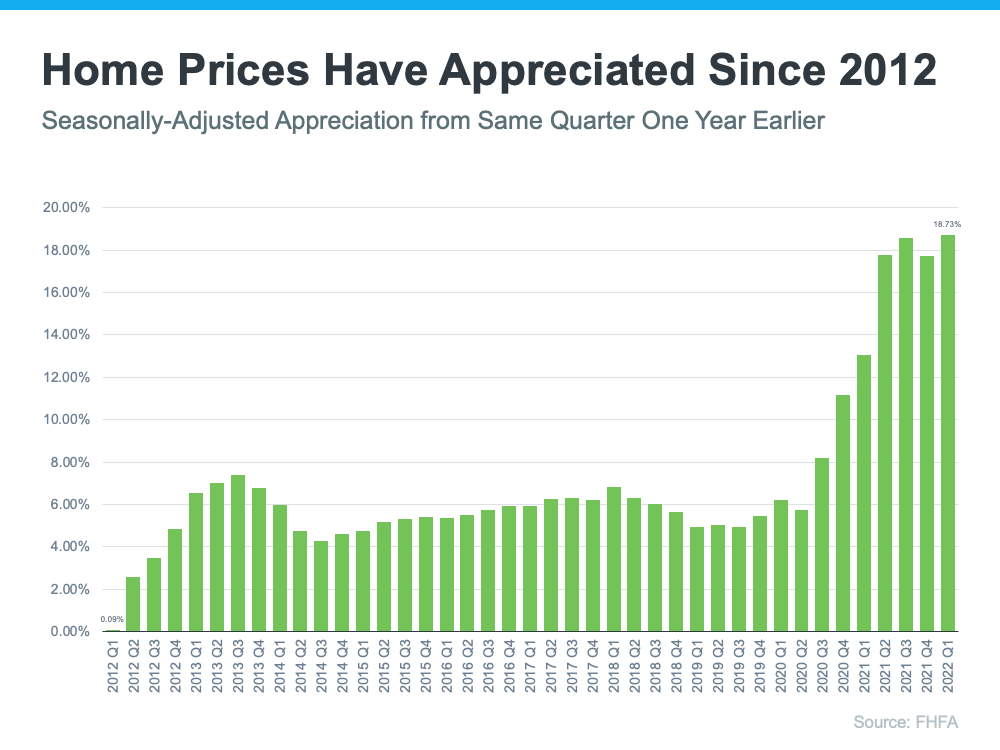 As the graph shows, houses have gained value consistently over the past 10 consecutive years. But since 2020, the increase has been more dramatic as home price growth accelerated.
So why did home prices climb so much? It's because there were more buyers than there were homes for sale. That imbalance put upward pressure on home prices because demand was high and supply was low.
Where Experts Say Home Prices Are Going
While this is helpful context, if you're a buyer or seller in today's market, you probably want to know what's going to happen with home prices moving forward. Will they continue that same growth path or will home prices fall?
Experts are forecasting ongoing appreciation, just at a decelerated pace. In other words, prices will keep climbing, just not as fast as they have been. The graph below shows home price forecasts from seven industry leaders. None are calling for prices to fall (see graph below):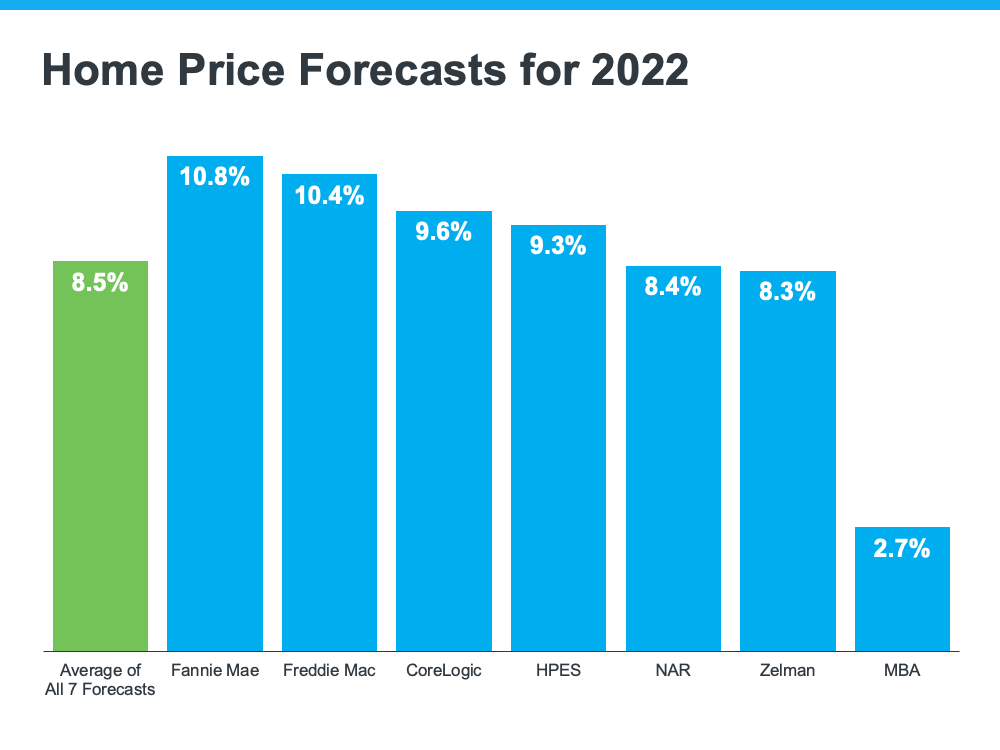 Mark Fleming, Chief Economist at First American, identifies a key reason why home prices won't depreciate or drop:
"In today's housing market, demand for homes continues to outpace supply, which is keeping the pressure on house prices, so don't expect house prices to decline."
And although housing supply is starting to tick up, it's not enough to make home prices decline because there's still a gap between the number of homes available for sale and the volume of buyers looking to make a purchase.
Terry Loebs, Founder of the research firm Pulsenomics, notes that most real estate experts and economists anticipate home prices will continue rising. As he puts it:
"With home values at record-high levels and a vast majority of experts projecting additional price increases this year and beyond, home prices and expectations remain buoyant."
Bottom Line
Experts forecast price deceleration, not depreciation. That means home prices will continue to rise, just at a slower pace. Let's connect so you can get the full picture of what's happening with home prices in our local market and to discuss your buying and selling goals.
The market is seeing some surprising turns. Days on market went down slightly last month, but list-to-sales ratios are still above average. These, in addition to other often overlooked factors, means that strategic shifts are happening for both buyers and sellers. Whichever side you are on, take a look at this month's Market Update to see what you should be aiming to do. Then call us so we can work together to create the best plan for you!
Stay tuned for our June Market Minute in the next few days.

– Matt , TREC #0754454
Celina is truly a city on the rise.

Did you know that when it's fully built out, Celina will have 350,000 residents. That's pretty incredible to think about when you consider it has around 37,000 today.

I love all of the new developments coming to Celina, the Square downtown and the quality of their school system.

Celina has been ranked the #1 fastest growing city in North Texas for three years in a row by the Dallas Business Journal. This ranking really comes as no surprise when you learn about all of the great things they have going on.
Learn about Celina's welcoming atmosphere and thriving economy from my friends at Check Out DFW:
Economic Development
Celina has a population of 37,000 (and is steadily growing). Most residents are young families, with the median age being around 36. Celina's median household income is $98,277, with an average home value of $465,000.
Economic development is a strong focus in the community. The majority of residents are community-minded and committed to shopping locally while supporting their neighbors. With this healthy cultivation of growth, the town is shaping out to become an ideal place for small-town businesses to thrive.
Situated along the coveted Collin County Corridor, Celina's maximum projected buildout population is approximately 350,000.
A Gigabit City
Gigabit cities are places that offer ultra-high-speed broadband that is available citywide at speeds of 1 gigabit per second (1 Gbps) or faster. This makes it easier for residents to access the Internet and allows businesses and schools to thrive and expand.
Celina received its official designation as a Gigabit City from the Office of Governor Greg Abott in 2020.
Community Spirit
Despite the projections of growth and amazing accessibility to technology, Celina is committed to its roots and maintaining a strong community spirit. The town regularly hosts community events, including its series of annual events to keep up the fun and outreach building.
These annual events include Friday Night Farmer's Markets, Movies on The Square, Parkfest, CajunFest, their 4th of July Celebration, Trick-or-Treat on the Square, and Christmas on The Square. You can read more about these events on the city's economic development Facebook page.
Celina School district
For several years in a row, the two school districts serving Celina students — the Celina and Prosper Independent School Districts — have received A ratings from the Texas Education Agency.
Between these two independent school districts there are six elementary schools: Boyer, Bryant, O'Dell, Johnson, Light Farms and Lykins. Four middle schools: Celina Junior High, Reynolds Middle, Rogers Middle, and Rushing Middle, and two high schools: Celina High and Prosper High.
They are all ideally situated within close proximity to Celina's expanding neighborhoods. Read more about Celina ISD here.
The Square
In 1997, the City of Celina was designated as an official Main Street City by the Texas Historical Commission and the National Trust for Historic Preservation. The Square remains the heartbeat of this special place.
They say you can tell a lot about a city's health from its downtown. Celina's historic downtown area is thriving with opportunity and offers dining, shopping, professional services, city offices, and green space within walking distance of the town's pavilion.
Checkout DFW has covered some of the amazing businesses along The Square which attract locals and visitors alike. Dining options include Lucy's on The Square, Toasted Walnut Table and Market, Tender Smokehouse, and Celina Star Café. Shopping options include Willow house Boutique, Annie Jack, Grace Bridge Resale, and Hey Sugar, candy store to name a few.
There is no shortage of inspiration along the streets of Celina's downtown Square. This is where the town's heritage lives on and where the community gathers, works, and plays.
For more information on Celina or other cities in the Dallas Metroplex, contact Matt Braun at [email protected]
Springs are amazing in Texas: The weather warms up a little, patios begin to fill in and we all start thinking about pool season and summer vacations.

But the spring also means it's time for spring cleaning. While no one enjoys cleaning, doing certain things around your house in the spring can protect your home — and your wallet — for years to come.

I have seen the return on my home and homes I have sold by doing just a few simple things that keep your house updated and looking beautiful.

Check out these 5 tips from my friends at Check Out DFW to do around your home and garden. Your summer self will thank you.
1. Spring cleaning
Spring cleaning is a necessity in Texas thanks to this season's new blooms of allergen-inducing particles.
This time of year is perfect for washing any linens that do not see regular rotation in the washing machine. Linens such as curtains, bedspreads, duvets, and decorative textiles.
This is also a wonderful time to shampoo carpets and upholstery. Including your car. You can rent a shampoo cleaner from most supermarkets or other suppliers for an affordable price (Most Walmart stores offer carpet cleaners for rent at $30/day or $40 for 48 hours. The cleaning solution is extra and varies from $10-$30).
Many Texans have dusting as a weekly chore, but fans and hard-to-reach places also need a good dusting.
2. Clean and insulate your home's exterior
We all remember the old childhood rhyme, "spring showers." Springtime absolutely brings lots of rain and other weather surprises.
Cleaning out your home's gutters is an important part of protecting your home's investment. While you have the ladder out, this is also a good time to inspect the roof.
Many Texans often look at roof repairs and replacements prior to hurricane season in the late summer.
Check for any cracks in the foundation too, not just the base but along the sides under ceilings.
Lastly, the heat and cold rotation can cause the weather stripping around windows to fail. Sometimes a simple cleaning and re-caulking around windows can prevent any future leaks or damage. This will also help to insulate your home for the summer heat coming.
3. A/C maintenance and inspection
No air conditioning during a Texas summer is the worst. Some of us have unfortunately undergone it, and nothing will motivate you more to take care of your home's air conditioning unit.
There are many businesses that offer inspection services and maintenance packages for your home's a/c unit. They will clean the coils, check for cracks, tighten bolts and top off freon.
Some of these businesses will inspect attics and may offer duct cleaning as well. It's worth getting a quote as all of these components contribute to your home's cooling system. Having an energy-efficient and well-insulated home is important but keeping the heart of your home's cooling system is vital.
4. Lawn Care
Springtime is a suitable time to fertilize and treat your lawn. This is a simple and affordable process that can save you a lot of expense and time in the summer. For a helpful guide on current lawn fertilizers and what they offer, check out this site.
Treat for any lawn pests while you fertilize.
It's also an excellent time to fertilize and get your flower and garden beds ready (whether in-ground or above).
Trees also need cultivation, make sure that any dead leaves are raked away from tree beds.
Trim any bushes or hedges and rake out those dead leaves and grass. While this can be time intensive, it provides an instant face lift for your yard. Adding new fertilizer and using lawn treatment around bushes and hedges will also help to keep all those annoying insects away.
5. Planting/Gardening
While it does depend on your zone area (you can look it up here), many Texans plant spring gardens and do landscaping work in April, after Easter. Weather patterns are such that most of Texas is free from fear of freezing or deadly frost by then.
Most folks will go ahead and bring out their porch plants and start recreating an outdoor oasis. Just in time for warm weather and longer days.
While you're outside on your porch, spring is also a good time to clean off any patio furniture and fixtures. Sometimes a simple cleaning or touch of paint can save you lots of money on your home's next season look.
Located just thirty minutes from Dallas and forty-five minutes from Fort Worth, Frisco is the perfect location for families or individuals seeking a laid-back city experience.
With a population of 200+ thousand people, you'd expect Frisco to feel like a big city, but it actually has a small town vibe compared to nearby Dallas-Fort Worth (United States Census Bureau). This makes Frisco a fantastic place for families looking to settle down, or individuals ready to start a new life.
A Hot Spot for Families
With low crime rates and an exceptional school system, Frisco, TX is a great town for families.
Frisco's K-12 education system is renowned for its high-quality educators and dedicated district leaders. Both Liberty High School and the private Legacy Christian Academy are in the top 100 of Texas High Schools with a strong focus on academics, sports, and college prep.
In addition to the safe environment and great schools, Frisco is known for both its low cost of living and booming economy. This favorable combination gives Frisco an edge on surrounding areas!

A Foodie's Dream Location
Do you enjoy foods from different cultures and regions of the world? Frisco, Texas is the town for you! Take your pick from an unlimited selection of delicious restaurants sure to take care of any food craving! You name it, Frisco has it; from Chinese and Mexican selections to mouthwatering sushi and world-famous BBQ, Frisco is a dream location for any foodie.
New restaurants are opening each year in Frisco. This means that you will never run out of new cuisine to try. So, whether you want to head downtown for a quick drink or spend hours tasting different courses at a five-star restaurant, you'll never run out of things to do in Frisco!
A reputation for Luxury
Known for its invigorating nightlife and the extraordinary Stonebriar Country Club, Frisco is a top destination for those looking to relax or have a good time. Enjoy a night on the town or head to the country club to relax while getting to know like-minded people over a game of golf.
Lake Lewisville is a local favorite for anyone looking for a "fishing, skiing, swimming, relaxing, and recreational boating" good time. With so many local activities available, it is no wonder why so many are choosing to relocate to Frisco.
Take Those First Steps
Choosing a location near the larger metroplex is a great way to stay close to big-city life without the hassle of actually living inside a big city. For this reason, Frisco, Texas is a prime location for individuals and families hoping to relocate to a safe but entertaining area!
Our team of local experts at Merit Homes are available to answer any questions you have about the Frisco, Texas area. For more expert information about the Frisco housing market and what your next steps should be in order to move, we invite you to Contact Matt Braun any time!